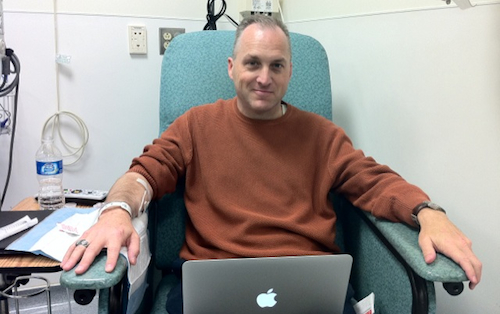 I've never been comfortable sitting in a chair if my feet can't touch the ground. So here I am, feeling like an 8 year old sent to the principal's office. This chair is huge and sort of "hospital-ish"—not the chair I would watch a football game from for sure. I'm five hours into my first day of treatment, and so far so good. I'm told each treatment builds on the last until they finally have you begging for mercy—so I'm really excited about the coming months. ;)
I went into the office early and reviewed all of my staff updates. It was nice to get a couple of hours of work in. We arrived at Kaiser at 9:30 where Bro. Eldon Lofgren (one of our deacons) was waiting (since 8 a.m.) to hug me and pray with me. What a blessing it was to see him standing there as I walked up the sidewalk to the lab! We hugged and prayed together. He's a great man.
After getting some bloodwork done, we met with Dr. Birhan. We chatted for about 45 minutes, asked questions, and enjoyed getting to know him better. I'm praying he will be saved. I gave him a copy of DONE and he promised me he would read it. His most encouraging words to me were spoken in his thick Ethiopian accent— "I tell you, you are going to have to find some other way to die. It will not be from this cancer." I loved that! Guess I'll start considering my other options then. :)
A little while later, we were ushered into a room full of chemo chairs and patients. Actually, this was the saddest moment of the day. Seeing all these folks getting chemo was hard for both me and Dana. I'm sure many of them have a much worse prognosis than I do. After having the IV hooked up, I waited for my personal poison to arrive—three injections followed by a bag, given over about three hours. In the middle of it all, we met with a pharmacist who gave us lots of other instructions about all the other medications they want me to take between treatments. So now, I'm both toxic and highly drugged. I'm really glad Pastor Chappell doesn't conduct mandatory drug testing for the staff.
Other than wrapping up the first treatment, the news of the day is as follows: I will need to have a port installed in my chest for future chemo. (This will be a procedure I'll have to have done in the next two weeks.) And, I have to get blood work every week. Not much else to report.
On the spiritual side, I'm grateful to have been able to give DONE to about four or five folks this morning and invited some to church. In fact, one lady is sitting next to me reading it right now! That's cool.
And I'm certain I'm the most prayed for individual in the country today. I actually feel like a "prayer hog"—like I might break some limit in Heaven or something—that's just how many encouraging emails, texts, messages, and tweets I've received today. Thank you so much for all of the encouragement. All day, God has given me an overwhelming sense of calm and security—so He's answering your prayer.
Well, day one is complete! The nurse just said she's gonna "flush me"! That sure doesn't sound fun, but I'm hoping that they have one of those prize boxes like the dentist does! I'm planning on grabbing two prizes—one for me, and one for Dana! :)
If you enjoyed this post, make sure you subscribe to my RSS feed!
No related posts.