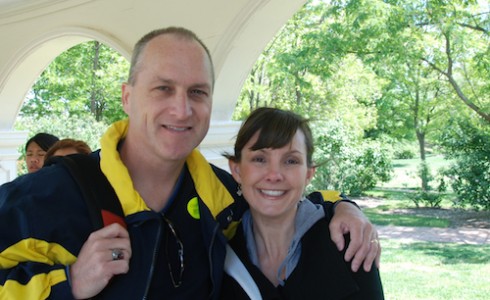 I am frequently asked, "How's your health?" or "How are you doing?" So here's a quick update with what's going on.
My last scan—in early February was cancer free. This is wonderful, incredible, blessed news; and I believe it's due to many faithful friends who pray for me often. Thank you!
Recovery from treatment is still a work in progress. I feel like I'm about 80-85% back to normal. Someone told me last week that they felt I was more like 70% back—just from watching my energy levels, etc. As of this writing, I'm 10 months out of treatment. The doctors originally told me that recovery would take about 18 months. Also friends who had Hodgkins have told me the same thing—I won't feel completely "back" until 18 months after treatment. So—just 8 more months to go!
The three most noticeable hold-over effects from treatment are as follows:

1. Physical weakness and decreased energy—every month this gets a little better, but I still battle stamina and a loss of physical strength. Some days are GREAT, but if I push too hard for too many days, I crash. I'm really on a budget of time/energy/rest. It's a delicate balance and I'm looking forward to not having to manage it so carefully.
2. Mental sharpness and recall—my brain is still not right. (I know—some of you are thinking, when was it ever!?) But I can tell I'm still a few brain cells short on recalling details—especially of things or people I met while on treatment. It's not a total intellectual failure—but more like a snag in the thought flow. It's like when your fishing line gets caught, but not totally stuck… and then it snaps free with a few tugs and pulls. My thought flow happens that way still—I'm sure thanks to chemo.
3. Lung capacity—the doctors told me they were permanently killing a good chunk of my lungs, but that the rest of the organ would eventually compensate for it. Well, that's still a work in progress. I still feel a bit like I'm in a straight jacket when I try to take deep breaths, of when I get out of breath.
So—I'm sure that's more information than you wanted, but that's the update. My next scan will be in August. Pray that it too will be clear.
I met a man yesterday who told me he had Hodgkins in 1970—when he was 36. He is not in his late 70's! That was an awesome blessing!
Finally, please pray for of my friends who are dealing with a recurrence of Hodgkins. They are both undergoing stem cell transplants right now.