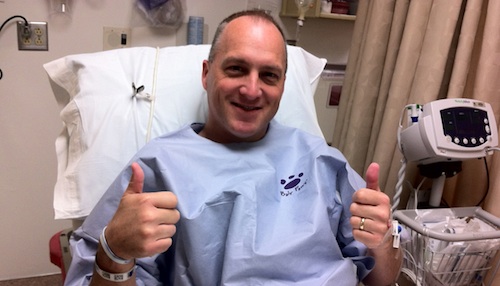 Friday was a HUGE day in the cancer battle! It was the day I have been marking in my mind for a year—the day that a surgeon would remove my portacath. I had expected to keep it longer, but at my last appointment, my doctor said we could go ahead and take it out. This was a great blessing—primarily because I just hated having that thing in my body (while being grateful for it at the same time.)

In some ways this event marked a finish line. The cancer journey is still in progress, and will be for some time. There are still regular scans and tests, and considerations of recurrence. But getting the port removed (at least for now) was the crossing of a finish line of sorts. I'm eternally grateful that God has brought us to this point, and I'm prayerfully hopeful that I will not need to have it put back in.
The procedure was relatively simple. The prep for surgery took much longer than the procedure, and the worst part was the lidocaine shots that numbed my chest. After that, it was smooth sailing, and took only a few minutes for the doctor to remove the port and stitch me back up. After an hour in recovery, Dana drove me home.
My right chest has been a bit sore for the past two days, but it's a wonderful soreness for sure. In a day or two, for the first time in a year, Dana will finally be able to lay her head on the right side of my chest without creating any discomfort.
One of the coolest moments of the morning was when the nurse was disconnecting my iv and other monitors. He reached over to cut my admitting bracelet off my arm and accidentally also cut my "LiveStrong" arm band given to me by my sons the week I was diagnosed. He felt terrible, and for a moment, I did too. I have worn that for a year, and treasured it. But then the Lord reminded me of the symbolism of watching that arm band drop from my wrist on the same day that my port was taken out. There was something special about it that I will never forget.
In closing, I want you to pray for some pretty special people in my life. First, a dear friend Tommy Burgess who has been battling cancer for three years now. I think of him and pray for him every day. He is a giant in my eyes and has taught me much. Second, another dear friend and mentor—Dr. Toby Weaver, the dean of men at West Coast Baptist College. He is in the middle of receiving a lymphoma diagnosis. And finally, a friend from church—Tony Brown—a great man who's teens are in our youth group. He has also been battling cancer for a long time. Please pause, before you click off this page, and ask God to bless, strengthen, and heal these men.
Thanks for stopping by and for praying for these friends!