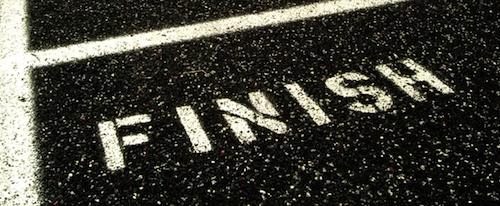 Today I made my last walk from the apartment to the hospital. A few moments later, it was a bit surreal to emerge from the treatment room for the last time. As I stepped out of the hospital onto Sunset Blvd., I snapped a quick photo of the building, and then it hit me. For the first time in 9 months, I can schedule my life without having to work around treatments for cancer. This is a brain reset that is still in process.

I crossed the street to Burger King, had breakfast, fought back some emotion, and just thanked the Lord for bringing us to this moment. Seven months of chemo and one month of radiation are now complete. Other than follow up appointments and regular tests every six months, the cancer battle is complete for now. And to the best that medical experts can tell, the cancer is dead.
The past few weeks have been blessedly redundant. Radiation was rather unremarkable. I only had a few days of nausea. I'm a bit burned on my upper body. And my throat has been pretty sore for a couple of weeks. It's bearable, but swallowing food is painful—so it really has to be worth it… like something with icing or glaze!
Kaiser gave me an apartment in Hollywood to use as needed—a blessing but not the kind of place I was wanting to stay longer. I will not miss the smoke smell, the slum area, or the drive to and from Lancaster. I was thankful to have a family member to keep me company on most of my nights away from home.
In the middle of it all, God gave us some special memories. We celebrated Larry's birthday yesterday. Dana and I had a few good dates in the Los Angeles area. And having the apartment did give me a place to get some work done and to rest to further recover from chemo. In all, I am beyond thankful! God has been exceedingly good to us and we are grateful for His grace and provision through this trial.
Where do we go from here? I will write more about that in the days ahead, but in short… we pray that it won't come back. I have to keep my port in for at least six months, in case it does. In January I will have more scans. If the cancer is still gone, I can have the port removed. That too will be a wonderful day.
In closing, I want to say again—Thank you for praying and encouraging me and my family. The prayers and encouragement of friends has been an amazing part of this journey. As we turn the page today and see treatment finally in the rear-view mirror—we realize we would not be here without the love, support, encouragement, and prayer of so many who love us! Thank you, thank you, thank you… a million times.