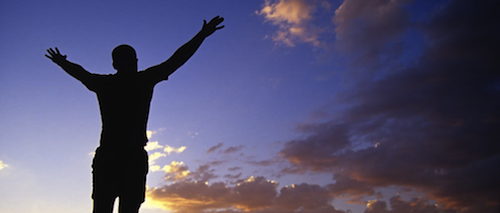 I woke up today and did exactly what the guy in this photo is doing! I shouted to Dana, "I feel alive!!!" Strange how feeling almost normal was such an overwhelming experience. I've obviously taken it for granted for the last 41 years!
Today God allowed me to have no nausea, enjoy work, have meetings, and actually do some productive things. I still noticed some fatigue and weakness, but nothing like the previous five days of this week have felt! I kept finding myself overwhelmed with the welcome feeling of being functional. Wow! What a wimp I must be.
After a good day of work, we enjoyed time with friends who brought dinner by (Panera Bread… soup so good I didn't know whether to eat it, pour it all over myself, or jump into it head first!) And now we're just enjoying a quiet family evening and looking forward to Sunday.
So, today I'm just really thankful for strength to feel nearly normal, and I pray it will last until my next treatment on the 29th. And I can't WAIT until tomorrow!! I LOVE SUNDAYS!!