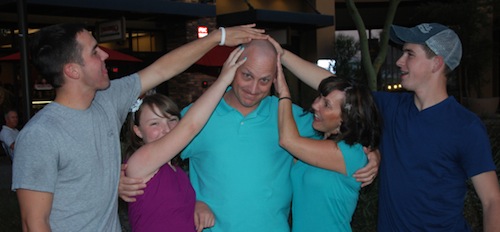 This update comes to you exactly nine weeks out from chemo, and two weeks out from radiation. Honestly, I was pretty optimistic on how I would be feeling by now. It's taking longer than I wish. I'm still having daily bouts with a mid-afternoon "wall" of energy loss and heavy chest. And for the past few days, nausea has still been a problem—surprisingly.
But, honestly, I have no complaints. Cancer is gone, treatments are done, we enjoyed a fabulous 25th anniversary week with our church family and friends, and now God is allowing our family to enjoy some vacation time.

Last week, the Lord brought a pastor friend into my life who had Hodgkins 15 years ago—exactly the same size, stage, treatment, etc. His situation was nearly identical to mine in every way except for his age. He was younger at the time. We visited for about an hour, and what an encouragement he was! He told me to be prepared for about an 18 month recovery. Yikes! But, it was unbelievably helpful to talk with someone who has survived this for fifteen years!
The photo above is all about "hair." My head is getting fuzzy and my family can't stop rubbing it. I think it's become a symbol of sorts—an icon of the end of the cancer battle. It must be cathartic for them to just walk over and rub my head. They giggle, smile, and generally exude glee and delight when they touch it—almost like they've missed the "real me." I must admit—I have too.
The blessings in life are overwhelming at the moment. Decompressing from this illness is surely something that will take time. Thankfully God has given us some time and ability in these weeks to do just that.
One of the great delights of my heart right now is to hear from people who are reading "Off Script." Many have written or messaged me in some way and it's still a bit surreal. I'm still wrapping my brain around the idea of cancer, but what a delight to know that God is somehow using this journey to encourage others in their own "off script" seasons. If you are reading it, I would love to hear your thoughts—or criticism… either way.
Thanks for stopping by. Please continue to pray that the cancer will not return!