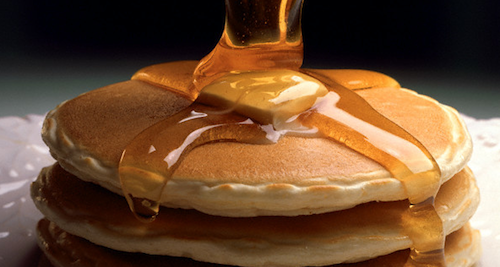 I'm sitting at McDonald's again this morning. Not sure why cancer left me with an appetite for pancakes, but I literally dreamed last night that I was eating pancakes. So… here I am, prep'ing for the day and enjoying pancakes.
The past few weeks have been good—very good. With the exception of my lungs and some energy management, I truly feel like my system is getting back to normal. Here are some blessings of recent days…

Sitting at McDonald's for breakfast without feeling sick
Feeling my lungs recovering incrementally every week.
Being able to resume somewhat normal ministry activity.
Enjoying being at home with family in good physical condition.
Sitting in church again, rather than sick in the back hallway.
Being able to be around groups of people again.
Fellowshipping with our church family once again.
Being able to start catching up on a year's backlog of home projects.
Hearing feedback from people who are being encouraged by "Off Script."
Being able to share the gospel with people (outside of medical institutions.)
Hearing of friends who are also doing well after cancer battles.
Cherishing people around me with a new and deeper appreciation for each one.
Sensing God doing a renewing work in my heart spiritually and emotionally.
Cherishing time with my wife and children on a deeper level than ever.
Growing in grace and just trying to serve God in sincerity.
I have a PET/CT scan next week—my first since treatment. We fully expect it to be clear. After that, the scans will be every six months provided that no symptoms return. The doctor says I'm about 8 months away from my lungs reaching their new baseline, although every week is slightly better than the last in the breathing department.
On a closing side note: if you are a cancer patient or if someone close to you is actively fighting cancer at the moment and would be blessed by a copy of "Off Script"—please email me the details and a mailing address. A Hodgkin's friend is graciously helping in an effort to provide a limited number of gift copies for cancer patients. ([email protected])
Thanks for praying!