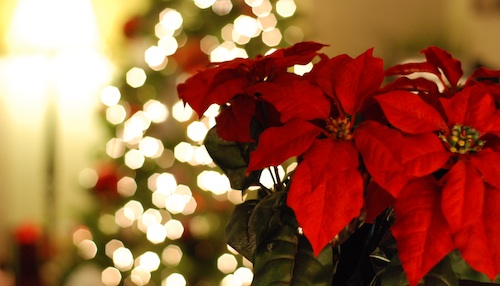 God really gave us a great few days together as a family, and in all fairness, I figure if I'm going to share the roughness of treatment, I'd better be sure to give the blessings of God equal or greater time, right? After 10 days of chemo come-back and related side-effects, life, energy, and mental stability returned in time for Christmas! (Thank you, Lord!)

The light at the end of the tunnel showed up (in the distance) about last Monday around noon. While I wasn't completely in my right mind yet, I was good enough to ride in the car with Dana and Lance and meet our son Larry along with some other of our staff for a fantastic Korean dinner. It was a bit of Heaven on Earth for sure! I'm thankful for an amazing wife who carefully drove us through three hours of traffic and bad weather—but she would agree, it was really worth it. After dinner, Dana and I were able to go shopping with the boys for a couple of hours—something we had hoped to get to do.
Tuesday was a normal work day, but all day and then with greater intensity on Wednesday I dealt with a deep pain in the bones, like I've never experienced. It was from the Neupogen injections—they finally caught up with me. In one way, it was good to know the meds were working. But in another way—WOW! It was pretty painful—especially to cough! But thankfully, the pain wore off by Wednesday evening.
Wednesday was our 21st anniversary, and since I wasn't walking like an 80 year old man any more, I decided to take Dana out for dinner. (Our church service was moved to Friday.) She was radiant, again, and we sure had a great time. I think cancer has caused us to fall even more in love—though it's hard to imagine that being possible. At least it's caused us to become more cherishing and focused toward each other.
Thursday was the first day since the last treatment that I could say, "Yes! I feel normal!" Both Thursday and Friday were combination work days and family days. We had  a great time with the kids—playing games, watching a couple of Christmas movies, finishing up the decorating, mailing Christmas cards, wrapping gifts, and getting ready for Christmas day. After the Christmas Eve service I decided to break doctor's orders just once—I hung around and talked to people. (One of the toughest parts of this has been having to avoid crowds. It means I can't stand around after church and talk with people—and I really love being with our church family. So it was nice to visit with folks for a while.) Afterwards we enjoyed an encouraging dinner with friends.
Christmas eve is always special. The kids went to bed, but Dana and I stayed up. For a while we wrapped the rest of the gifts. Then it's my tradition to just wander around the house taking pictures of stuff—hence the photo above. After that we set out all the kids gifts, stood and looked at it for a moment, and finally realized how exhausted we were. It was 2am! Crash!
Christmas day started with the family gathered around exchanging gifts. Our tradition is to go one person at a time, and to really take our time. So that lasted a while. Then we broke out the cinnamon role ministry (thanks to the Downey's home-made cinnamon roles!) and milk. I helped the kids unpack, charge, load, register, and enjoy their stuff while Dana got dinner ready, and finally at about 2pm we sat down to the best Christmas dinner Dana has ever made! It was awesome.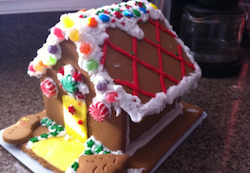 We watched the Lakers get killed, ate pie, iced cookies, and then Haylee and I put together a ginger bread house. About half way through the whole thing collapsed, but we redoubled our icing efforts and rebuilt. See finished product to left.
As the day came winding down I found myself sitting on the edge of our bed brushing away tears and thanking the Lord for being so good. Dana came in first and put her head on my shoulder—and then, one by one, the kids migrated onto our bed. Our sober moment melted into laughter as our kids began their usual antics and hilarity. I couldn't help but just sit there and enjoy watching them giggle, goof around, tickle each other, and otherwise just act like monkeys.
Then, as they began to run out of steam, we prayed. Each of us took a turn thanking the Lord for such a wonderful day. We expressed our love to Him, thanked Him for saving us, asked Him again for healing, and blessed Him for being so good to us! I feel this way every year, but this year in a special way, I think it was the best Christmas a man could ever have.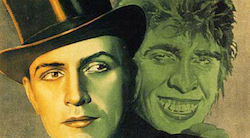 Side note: Treatment #3 is at 1:30 tomorrow, so somewhere around 6pm, Dr. Jekyl (or is it Mr. Hyde?) should be back spilling chocolate milk all over the house.